We don't know what's been going on lately, but we've been experiencing an intense need to switch out our skinny jeans for wide legs, our messenger bags for saddle bags, and—dare we even say—our floral scents for patchouli ones. We've gotten the '70s boho bug, and we don't want to find the remedy. We're going to really wallow in this
'70s fashion trend
this weekend, and pick up a few pieces to really channel our inner Charlie's Angel. Check out the things we've got our eye on in this week's Lust List!
Elona Floppy Hat—A giant-brimmed hat will be your best beach friend. Choose an inexpensive one so you don't freak out if it gets crushed under the cooler.
$19.90, available at Alloy.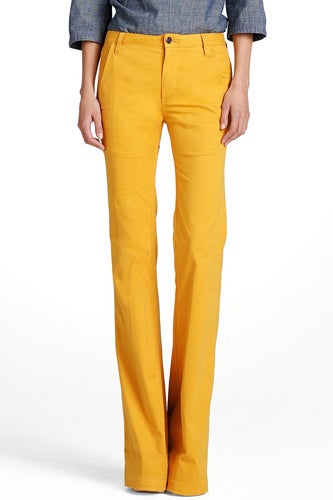 Tory Burch High Waisted Flare Jean—If you're going to buy one pair of high-waisted, wide-legged trousers this spring, let it be these. How electrifying is the color?
$195, available at Tory Burch.
'80s Purple Burlesque Round Sunglasses—Though not rose-tinted, these sunglasses bring back that saucer-for-specs look.
$12, available at '80s Purple.







A.P.C. Saddle Bag—We think a saddlebag feels timeless. Make an investment with this one from A.P.C..
$310, available at La Garconne.